Tue, 30 September 2014
#11 Coach Sunday - Drömmar
För att nå sina drömmar så behöver man ha visioner och en inre lust och vilja för att nå dem. Jag och Sarah har stora drömmar och ambitioner och dessa sattes på prov i dagens podcast. Hör mer om vad det var som egentligen hände.
Coach Sunday är en podcast av och med Charlott Zsoldos "JustLotta" och Sarah Jerngren.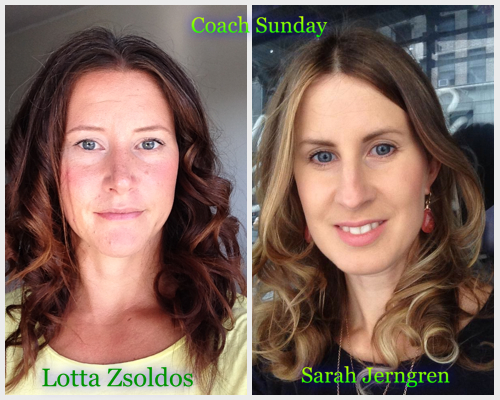 ---
Thu, 25 September 2014
#10 Magnus Resa
Magnus är en 39årig Stockholmskille som vill göra en livsstilsförändring. Och mina/våra lyssnare ska få chansen att på nära håll lyssna till det som händer när man gör det.
Besök min hemsida på http://justlotta.se
---
Sun, 21 September 2014
#9 Coach Sunday - Tacksamhet
Tiden har gått fort och vår minipodcast fortsätter. Idag får ni lyssna till vårt femte avsnitt där vi reflekterar kring ordet tacksamhet. Det här ämnet är något som både jag och Sarah brinner för och 20 minuter gick fort även den här gången.
Gillar du det som du hör? Gilla, dela och skriv en rad om vad du tycker.
Lottas hemsida: http://justlotta.se
Mycket kärlek från Lotta och Sarah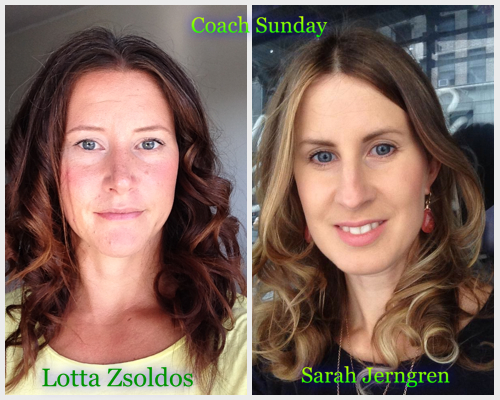 ---
Sun, 14 September 2014
#8 Soul Sunday - Att släppa taget
Hej!
I det här avsnittet så reflekterar jag och Sarah över vad det innebär att släppa taget. Är det lätt, sårt eller faktiskt ett måste?
Under veckan så hade vi ett par olika områden som vi var intresserade av, men det hela avgjordes genom ett sms från Lotta "Vad tror du om ämnet, att släppa taget". Detta blev tillslut i vårt tycke en av de bästa av våra fyra podcasts som vi har gjort så här långt.
Lämna gärna en kommentar, gilla och sätt betyg, och varför inte dela när du ändå är i farten.
För att komma i kontakt med oss: lotta@justlotta.se eller hemsidan: http://justlotta.se
Vill du komma i kontakt med Sarah så kan du bland annat nå henne på hennes instagram: @sarahsshowroom eller på hennes blogg: www.sarahsshowroom.se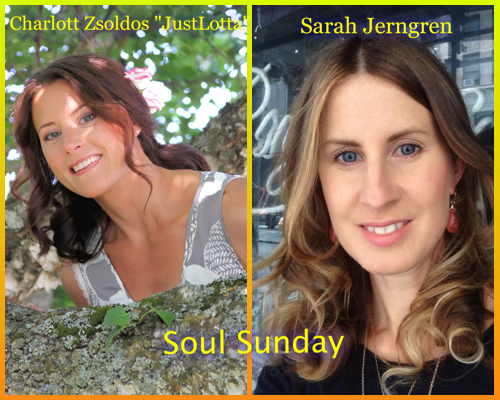 ---
Sun, 7 September 2014
#7 Soul Sunday - Relationer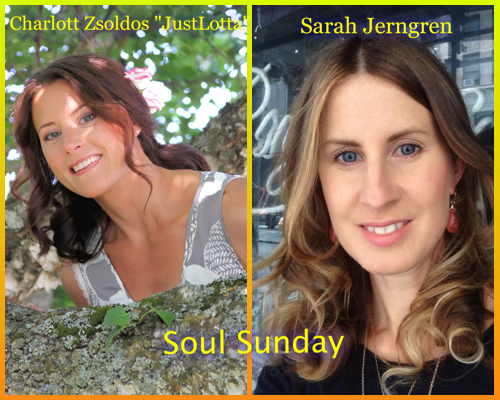 Soul Sunday släpper sitt tredje avsnitt och den här gången så är ämnet relationer. Jag och Sarah har många reflektioner kring ämnet och vi är absolut inga kärleksexperter. Dock så är vi nyfikna på att bli bättre.
Vi lyfter olika böcker och författare på ämnet och ni får en inblick i våra liv. För även om vi jobbar som coacher så har vi inte svaren på alla frågor, utan vi söker ständigt svaren inom oss själva. Och vår förhoppning är attt du som lyssnar börjar att ställa frågor till dig själv, under eller efter podcasten.
Mycket nöje och vi är tillbaka igen nästa söndag :)
Charlott Zsoldos Holistic Health coach http://justlotta.se
---
Mon, 1 September 2014
#6 JP Seears and JustLotta reflects on healthy relationships
Today on the show I had the pleasure of having my mentor as my guest. The brilliant JP Sears sat down with me on Skype and we had a good, long talk about "healthy relationships".
If you want to get in touch with JP who is an innercoach in the US, please visit his website: www.innerawakeningsonline.com
If you want to know more about me: http://justlotta.se
---